Company Profile
About

That is the goal of McPherson Connected Systems. Our name and reputation ride on how well McPherson keeps your systems connected; ALL of your systems. MCS can reconfigure, remodel, or retrofit your existing electronics or design a new system from the ground up. If you're building new, remodeling, or adding on to your home or business, make MCS part of your team. We
can create the ultimate home theater, yet make it a breeze to operate. We can allow you to control your indoor and outdoor lights, entertainment, security, or temperature with the touch of a few buttons located on one convenient panel. We can connect an office of three people or a staff of hundreds.

Products & Services

Home Theater, Distributed Audio, Security, Surveillance, Data Wiring / Systems, Repair and Re-configure,Design Consultation.
Contact Information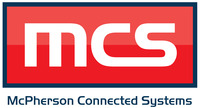 Main Location

2899 Eastcleft Drive
X
Upper Arlington, OH 43221

Hours of Operation

By Appointment Only

Phone

6143593311

Email

Website
Ask a Question »
Request a Free Estimate »